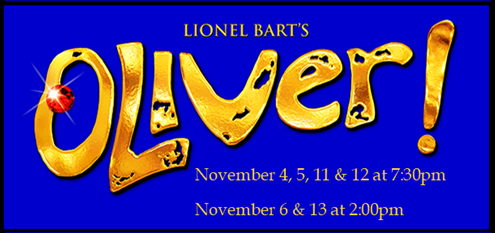 Theatre UP Presents: Oliver!
1813
1813 people viewed this event.
November 4, 5, 11 and 12 at 7:30pm
November 6 and 13 at 2:00pm
Bringing Charles Dickens' beloved novel to life, Lionel Bart's Oliver! takes audiences on a wild adventure through Victorian England. Join young, orphaned Oliver Twist as he navigates the London's underworld of theft and violence, searching for a home, a family, and – most importantly – for love. When Oliver is picked up on the street by a boy named the Artful Dodger, he is welcomed into a gang of child pickpockets led by the conniving, but charismatic, Fagin. When Oliver is falsely accused of a theft he didn't commit, he is rescued by a kind and wealthy gentleman, to the dismay of Fagin's violent sidekick, Bill Sikes. Caught in the middle is the warm-hearted Nancy, who is trapped under Bill's thumb, but desperate to help Oliver, with tragic results. With spirited, timeless songs like "As Long as He Needs Me," "Food, Glorious Food," and "Where Is Love," Oliver! is a musical classic.